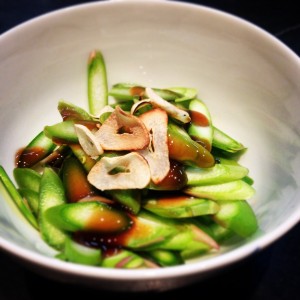 Have you even served up a delicious meal that uses delicate asparagus tips… and then looked back to the chopping board with a heavy heart seeing the stalks lying there, no purpose to their existence, sad in the knowledge they are headed for the bin or the compost?
Ok maybe not, but I cannot stand throwing food away so I tend to rustle up some random things with left over bits and pieces. In fact some of the most lovely accompaniments have come from left over trimmings of ingredients to other dishes.
The night before last I had used asparagus tips with sugar snaps red chillies and garlic to make a crunchy and delightful stir fry. I popped one of the stalks in my mouth and crunched through its delicate and delicious light flavour.
I couldn't just let that go to waste so with my remarkably sharp knife, a cherished 30th birthday present from my boyfriend, with a look of determined concentration sliced the stalks ultra finely and tossed them in lime juice. I heated up and pan and dry cooked a finely sliced smoked garlic clove to decorate the dish with, I poured over warmed oyster sauce and bingo! No more lonely asparagus stalks, not to mention my client was extremely pleased with the outcome!
I think we should all experiment more with the off cuts, you've nothing to lose as it is not an integral part of the planned meal. If it's a disaster quietly slide it into the bin, no one will ever know but more than likely it will be an eye opening success so go ahead. Have a play around with all those lonely bits and pieces left out of the main dishes.