Firm tofu can be incredibly versatile and fabulously tasty, it can also be gross, squidgy, tasteless and generally not where you want to be in life…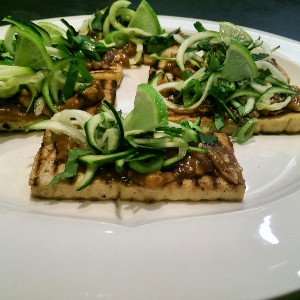 The other night I was fiddling about and came up with something glorious, I will probably come up with a better recipe but for now here is the first go:
1 packet of Cauldron organic firm tofu, sliced into fingers/slices
2 heaped tbsp. of crunchy organic peanut butter
2 tbsp. maple syrup (if you use agave only use 1 spoon as it is much sweeter)
2 tsp tamari
1 tbsp. sesame seeds
1/3 courgette spiralised
1/4 spring onion chopped finely
1 few coriander and Thai basil leaves ripped
half a lime for squeezing at the end!
Heat a griddle pan on a medium to high heat and brush with coconut oil. Cook each finger/slice of tofu even on each side until browned and crispy. In the mean time mix up the tamari, maple syrup, peanut better and sesame seeds in a small bowl until you have a smooth paste – add a tbsp. of water to create a more fluid paste.
Toss the greens together. top the tofu fingers whilst still warm with the paste and garnish with the green bits. squeeze fresh lime on top and take a bite! Delicious.
Yes its vegan, yes its delicious, no eating vegan food doesn't make you a a long haired hippy living in a commune in the woods – although you might want to try it just in case it is for you!